Connect with your social network account

This Summer in Dar es Salaam Tabligh Sub Committee has organized a
Hawza Summer Camp
Details are in the poster below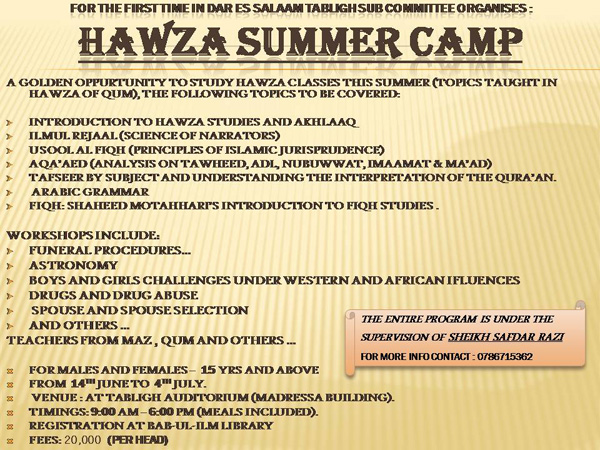 Sounds interesting! But will guys n girls be dng this together?
/\/\ |=|
i have posed this question and will keep everyone posted on the details of what arrangements have been made.
can students who attended give a brief of their experiences?

I was informed that due to lack of enough volunteers the classes were conducted at auditorium, boys & girls together with some minimal form of separation.
Ask Mod
Posts: 41
Joined: 03 Dec 2010, 23:45
Contact:
Hasin

Salaams!

How did it go in the end?? did you get any feedbacks?
no feedback yet

However, the next brief course that was organized was done separately for boys and girls.
---
Return to "General Announcements"
Who is online
Users browsing this forum: No registered users and 3 guests