Connect with your social network account

Astronomers and enthusiasts are excited about the upcoming solar eclipse which will be total in parts of Uganda and Kenya.
To quote Mr. Eclipse
The total eclipse of the Sun is the most spectacular event in all of Nature! Few people have ever witnessed one, but once seen it is an experience never to be forgotten. The Moon's dark shadow plunges you into an eerie twilight and the Sun's mysterious and incredibly beautiful corona is revealed.

Attachments

mobileimage.jpg (37 KiB) Viewed 1893 times
Here is a summary chart of the Nov 3 eclipse from NASA
Attachments

mobileimage.jpg (145.05 KiB) Viewed 1893 times
What is a hybrid solar eclipse?
A hybrid solar eclipse is an eclipse of the sun which is both annular (partial) at some point and total as well at another point in time.
It is extremely rare to have a hybrid solar eclipse. As per UniverseToday:
[quote]
How rare are hybrid solar eclipse? Of the 11,898 solar eclipses listed over a 5,000 year span from 1999 BC to 3000 AD in Fred Espenak's Five Millennium Catalog of Solar Eclipses, only 569, or 4.8% are hybrids.
[quote]
An illustration of the hybrid solar eclipse of Nov 3.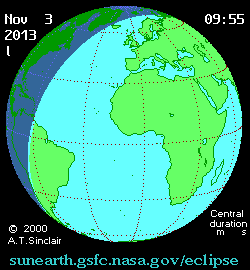 The global path of this weekends eclipse. (Credit: Michael Zeiler, @EclipseMaps).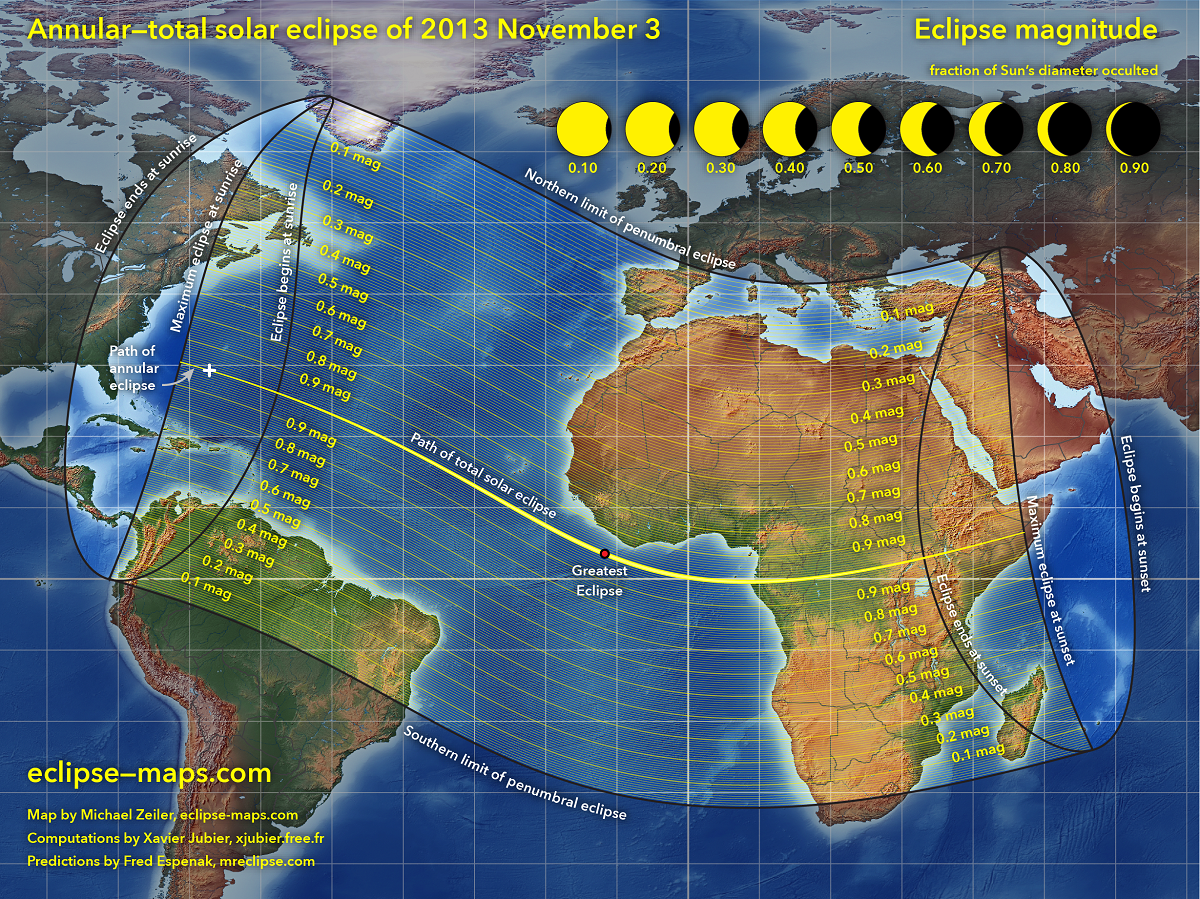 Except for parts of Ethopia, Somalia, Kenya and Uganda where a brilliant sunset total eclipse will be visible, we in Tanzania will be able to see only the partial eclipse.
Here is a photo taken by Zahirbhai Panjwani
Attachments

mobileimage.jpg (28.67 KiB) Viewed 1870 times
---
Who is online
Users browsing this forum: No registered users and 1 guest